Background to the war in Sudan

Sudan is inhabited by more than 30 million people and covers an area of one
mio squaremiles. The main languages are Arabic followed by many other languages.
Linguistic diversity is specifically very rich in the South Sudan whose inhabitants make
up one third of the total population and inhabit a quarter of the country. More than half of the total
population live in the Northern part of the country.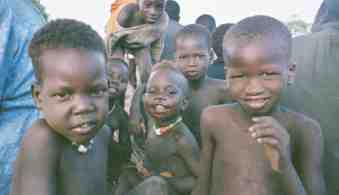 The war in Southern Sudan, which started in 1955, is the longest war in Africa.
If causalities can be counted at all, only since 1983, two out of 5 million people have been killed.
Two additional factors have aggravated the conflict situation in Southern Sudan:
the discovery of oil in Southern Sudan and the rise of political islam in the North.
Since the discovery of oil fields, the richest of which are in the South, the Sudanese
government's fear of Southern secession has increased. The introduction of the Sharia
in 1983 was followed by a series of islamization campaigns. This has induced a reactive
political Christianity; for he Southern population is predominantly Christian and orients
itself along the global alliances of forces and stressed the religious aspect of a
'clash of culture' like confrontation.
However, just like the diversity of the Sudan makes a reduction to cultural, ethnic or racial
categories difficult, reasons for the long lasting civil war can not be reduced to causal factors.
They rather relate to the interplay of various factors like religion, local perceptions of race and
social status, economic exploitation and colonial as well as postcolonial interventions.
Above the sub-national level, global power struggles also add to the dynamics of the conflict.
For an understanding of the civil war in Sudan it is important to understand the roles of
succeeding states that respectively produced regional underdevelopment as well as
racial and cultural antagonisms.
The war has destroyed and paralyzed the South. Along with the high level of insecurity and
escalating violence neither school nor medical care can be regularly provided, so that
many Southern Sudanese were forced to flee to refugee camps along the borders.
The Intergovernmental Authority on Development (IGAD) organized peace talks
between the government of Sudan (GOS) and the Sudan Peoples Liberation Movement (SPLM) that
began in July 2002 and ended with a peace agreement in January 2005. The peace agreement
fixed a six year interim period during which the SPLM will be politically and militarily integrated
to the GOS. After the six years a referendum in the South will decide about the political fate of
Southern Sudan. The signing of the peace agreement has ended one of the longest wars in Africa.