About the scholars

Although prospects for peace in Sudan are high, the temporary criteria
for the selection of scholars are: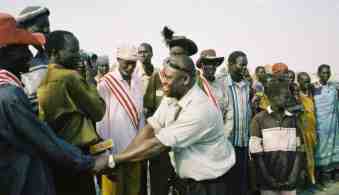 The scientifically and vocationally trained scholars are obliged to engage in
development cooperation, in order to develop the local economy and reduce
dependence from foreign experts. Their engagement shall lead to the
development of marginalized regions, and should take place in the region of
Gambella in Ethiopia and/or Southern Sudan.
After peace will be installed, the scholars are expected to engage in the
reconstruction of war-torn Southern Sudan. He/she should engage in community
development organized by civil society groups or the government itself. The
association promotes scholars who direct their actions free from clan networks
and with the aim of obtaining a just and sustainable world that equally
includes all Southern Sudanese.
The strengthening of social awareness and community responsibility in
Southern Sudan as opposed to mechanism of exclusion are the main
objectives of the association. The scholars therefore engage in voluntary social
work during the semester or semester breaks. Presently, two scholars give
weekly English lessons to Southern Sudanese youth during semester breaks.
The type of social engagement will however depend on the scholars' creativity as
well as on specific social demands. Rather than developing a receiving attitude,
the scholar is expected to contribute to the association with the overall long term
aim of reducing dependency and strengthening local capacity.
Download: Report of the first scholar



Future perspectives

Presently the association is very young and depends on limited resources.
So far, three scholars are accepted, two of which are already studying.
The third scholar is expected to start in the fall of 2005. In the future, additional
scholars will be added and will establish a network that will carry the idea of
social awareness, fair distribution of resources, integration and equal development
to the larger Southern Sudan. As part of the Sudanese civil society the
association will start engaging in peace-keeping activities and non-profit
making acitivities.